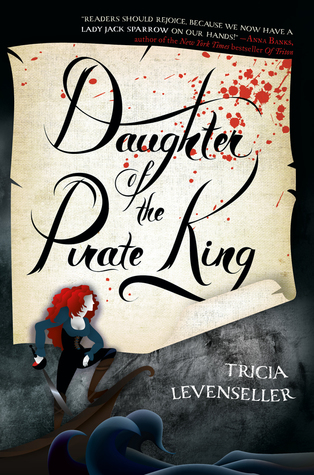 Genre
Young Adult, Fantasy and Adventure
Summary
"There will be plenty of time for me to beat him soundly once I've gotten what I came for.
Sent on a mission to retrieve an ancient hidden map—the key to a legendary treasure trove—seventeen-year-old pirate captain Alosa deliberately allows herself to be captured by her enemies, giving her the perfect opportunity to search their ship.
More than a match for the ruthless pirate crew, Alosa has only one thing standing between her and the map: her captor, the unexpectedly clever and unfairly attractive first mate, Riden. But not to worry, for Alosa has a few tricks up her sleeve, and no lone pirate can stop the Daughter of the Pirate King."
Characters
Alosa is our main character and I think she is amazing! She is almost everything I want in a female character. She is sassy, she can stand up and her strategy, skills and knowledge can beat almost all the man pirates. Oh yeah, and she is a pirate and captain of her own ship with only women as her crew. I love that she is so stubborn and always has an answer ready.
Writing
The writing is easy to get into and the beginning had you already into the story. I do have to say that the beginning felt a bit slower than the ending, because the second half of this novel is a page turner, but the beginning does a lot of character building and I really enjoyed that as well. The world is also build out good, but I want more of it. I do think that we will get more of that in the second installment.
Ending
There happened a lot of things in the last few pages, which kept me on the edge of my seat. And really enjoyed the ending and I am very curious to see where everything would go in the next installment.
Overall
Overall I really enjoyed reading this book. I loved the pirates and the way our main character is. I have been wanting to read a pirate book for so long, and here it was. I don't really needed romance in this book, I am okay with the romance, but I could have done without.
Pros:
Great main character, who is smart and badass but still has her faults
Scavenger hunt!
Pirates!
Cons:
Overall rating: 4.5/5 stars
Buddy Read
I Buddy Read this book together with Savannah from the Book Prophet. And I really enjoyed it, I have enjoyed every Buddy Read I have done so far. It is a different kind of reading and you get to discuss a book or parts of the book together with someone, which I am not able to do otherwise, because my reviews are spoiler free.
We each asked the other five questions about the book. So here are my questions to Savannah and her answers to them:
What did you enjoy the most of this book?
THE PIRATES! I love pirates, I don't know why but I also just love characters that are ruthless and aren't scared to kill someone who has crossed them.
What would you change about this book?
I would delete the romance (at least until the next book if it absolutely had to be there) and change from first to third person.
Did you have any expectations before you went into this book, what were they and did the book meet those expectations?
? I didn't have the highest of expectations because although I haven't heard bad things about it, I also hadn't heard absolutely amazing things about it. So my expectations were met, I think.
What would you love to see happen in the next installment in this duology?
Gosh, that's hard… I'd like those who screwed over Alosa to get what they deserve haha.
Who was your favorite character and why?
Alosa for sure! She's such a strong character and never truly lets her feelings overrule her.
So that was it for the buddy read section. If you haven't check out Savannah's blog, I would highly recommend it and she also has a Booktube channel.