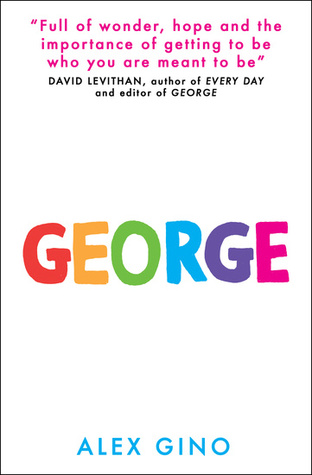 Genre
Middle Grade, Contemporary and LGBTQIA+
Summary
"When people look at George, they think they see a boy. But she knows she's not a boy. She knows she's a girl. 
George thinks she'll have to keep this a secret forever. Then her (4th grade) teacher announces their class play is going to be "Charlotte's Web." George really, really, REALLY wants to play Charlotte. But the teacher says she can't even try out for the part …because she's a boy.
With the help of her best friend, Kelly, George comes up with a plan. Not just so she can be Charlotte – but so everyone can know who she is, once and for all."
Characters
I loved, loved, LOVED George/Melissa. And to be honest I just want to call her Melissa throughout this review even though in the book she is most of the time called George. I felt so for her and her struggles. And the fact that she had to deal with her struggles all on her own broke my heart.
Writing
This book is written in first person, so we see everything through Melissa's eyes and we hear all of her thoughts. This is a middle grade book and Melissa is 10 years old so the story is told a bit more simplistic than YA, but I don't really mind it at all.
Ending
The ending made me tear up because of the happy ending. And I am not going to say more about it.
Overall
I personally think it would be great to just go into this book without knowing that much and without any expectations. And I don't know why but I felt so for our main character Melissa/George and I just wanted everything to end well for her.
Pros:
Transgender main character
The most amazing best friend
Awesome brother
Character driven story
Cons:
Overall rating: 4.5/5 stars