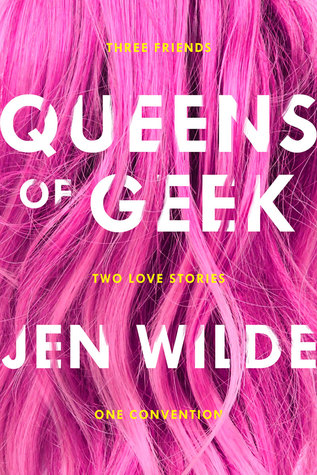 Genre
Young Adult, Contemporary, Romance, LGBTQIA+ and Mental Health
Summary
"When BFFs Charlie, Taylor and Jamie go to SupaCon, they know it's going to be a blast. What they don't expect is for it to change their lives forever.
Charlie likes to stand out. SupaCon is her chance to show fans she's over her public breakup with co-star, Reese Ryan. When Alyssa Huntington arrives as a surprise guest, it seems Charlie's long-time crush on her isn't as one-sided as she thought.
While Charlie dodges questions about her personal life, Taylor starts asking questions about her own.
Taylor likes to blend in. Her brain is wired differently, making her fear change. And there's one thing in her life she knows will never change: her friendship with Jamie—no matter how much she may secretly want it to. But when she hears about the Queen Firestone SupaFan Contest, she starts to rethink her rules on playing it safe."
Characters
Charlie: I wasn't really invested in Charlie's side of the story, it is not that she was a bad character but I just wanted more of Taylor. The thing I just didn't get about her is that she didn't think she was popular and she hadn't been recognized, but she is main star actor in a movie which had blown up, she has over 3 million followers on her Youtube channel and there is a whole thing going on between fans for her and her ex (with the ship name 'Chase').
Taylor: She is a girl who is chubby, she has autism and anxiety. I loved ready from Taylor's POV. She was the character in mostly related to. And to see her overcome her fears and the fact that she has to deal with changes. I was constantly rooting for her and hoping that things would work out for her in the end.
Writing
I love that it had to do with fandoms and that it took place at a convention. I enjoyed the way the convention was described and that we got to see from two point of views, though I would have done fine with just Taylor's POV, because the only reason I wanted to read Charlie's POV was because of her romance which only happened at 2/3 into the book.
Ending
Everything wrapped up nicely and there aren't any unanswered questions left for me. I loved that even though this book takes place over a just a weekend, each character grows and learns something new about their selves.
Overall
Overall I had a great time reading this book, it is easy to read and because you are following 2 POV's, you get more of the overall story. My favorite character is Taylor and I just loved following her and the amazing growth she goes through. This book is divers because, Charlie has Chines origins and she is bisexual, and Taylor has autism and anxiety but she is also chubby.  I loved the use of fandom in this book and I would love to read more from this author.
Pros:
Divers characters
Female/female romance
Fandoms + fandom references
Cons:
I wasn't that interested in Charlie until her romance started
Overall rating: 3.5/5 stars