Hello Readers!
So it is already December O.O! I don't know where the time went, I can still remember making my 2017 Goals. But before we go into the last month of 2017, I will tell you guys about the books I have read in November.
I haven't read that much in November, but I am still glad I read something. I have been sort of in a reading slump, and I want to read but I just can't decide what to read or if I finished a book what to read next. So I have 4 books to talk to you about and because there are only three, I am going to give you a mini review of them.
Another Place by Matthew Crow
So I think I went into this book with too high expectations. In this book the main character deals with depression and ever since I have been diagnosed with depression I have been looking for books to relate to. But that didn't happen, I wasn't feeling any connection with the main character and overall I was just annoyed by her. She was being very self-centered and thought no one could experience that kind of pain she experienced. I did like the mystery aspect of this book and the way it came to a conclusion.
Rating: 2/5 stars
Nevernight by Jay Kristoff
I actually made my first ever review on my YouTube channel about this book. So if you would like some more in dept thoughts about it, you can watch it here. But I overall enjoyed this book. the main characters were developed well, but the side characters not so much. In this book the world building mostly happens though footnotes, which was interesting to read. But in the beginning the footnotes were almost on every other page that I took me out of the story to read it. So half way through the book I skim read them and after another 100 pages I stopped reading them.
Rating: 3.5/5 stars
The Silver Eyes by Scott Cawthon and Kira Breed-Wrisley
I was really interested in reading this book. But it wasn't as great as I imagined it would be. It took more than half the book to get to the main plot of the book and I wasn't as scared as I thought I would be. Actually I wasn't scared at all. I don't really have anything more to say about it. It was meh. I hope that the next book will be better.
Rating: 3/5 stars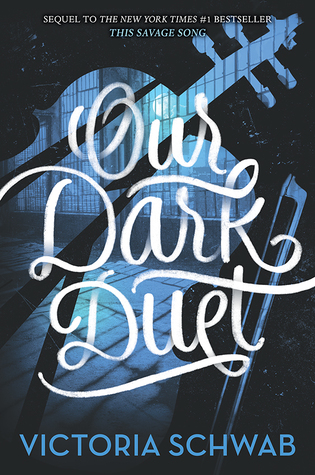 Our Dark Duet by Victoria Schwab
This book… it destroyed my feelings! I loved everything about this book, it was amazing to visit the world and the characters again, and I loved every second of it. I am not going to say much about it because it is the second book in this duology and I would probably not do it justice for how amazing it is.
Rating: 5/5 stars
So did you read any of these books? What was your favorite read of November (I think mine is obvious)?