Hello Readers!
So it is that time of the year again to list the favorite books you have read in that year. So I have way more than 5 books, so look out for that post. Here you have a preview.
Furthermore by Tahereh Mafi
"Born as blank as canvas in a world brimming with colour and magic, Alice's pale skin and milk-white hair mark her as an outcast. Because, for the people of Ferenwood, colour and magic are one and the same. And since the disappearance of her beloved father, Alice is more determined than ever to prove herself and her own magical abilities.
To do so she'll have to travel into the mythical, dangerous land of Furthermore, with the help of a fiercely annoying boy named Oliver. But nothing in Furthermore is as it seems, and it will take all of Alice's wits to find her father and return him safely home."
This was the first book of Tahereh Mafi I read and I instantly felt in love with her writing. I loved how the world was build and the descriptions of the world. I also really enjoyed Alice as a character and the development she went through the more time she spent in Furthermore.
Emma by Jane Austen
""Emma," when first published in 1816, was written when Jane Austen was at the height of her powers. In it, we have her two greatest comic creations — the eccentric Mr. Woodhouse and that quintissential bore, Miss Bates. In it, too, we have her most profound characterization: the witty, imaginative, self-deluded Emma, a heroine the author declared "no one but myself will much like, " but who has been much loved by generations of readers."
So this was the first book I finished in 2017 and it was already a great book. I was listening to this on audiobook, because that way I understand what is happening in classics. And I loved the fact that Emma started of as an unlikable character and she because more and more likable and you see her develop so much throughout the book. This is my favorite Jane Austen book.
The Princess Saves Herself In This One by Amanda Lovelace
""Ah, life- the thing that happens to us while we're off somewhere else blowing on dandelions & wishing ourselves into the pages of our favorite fairy tales."
A poetry collection divided into four different parts: the princess, the damsel, the queen, & you. the princess, the damsel, & the queen piece together the life of the author in three stages, while you serves as a note to the reader & all of humankind. Explores life & all of its love, loss, grief, healing, empowerment, & inspirations."
This was the first time I read poetry and because I had heard amazing things about this one, I decided to start with this one. And I can't even describe the way I felt while reading this. I have tabbed so many of the poetry in this book in which I saw myself and the way I could relate to it.
Anne of Green Gables by Lucy Maud Montgomery
"Everyone's favorite redhead, the spunky Anne Shirley, begins her adventures at Green Gables, a farm outside Avonlea, Prince Edward Island. When the freckled girl realizes that the elderly Cuthberts wanted to adopt a boy instead, she begins to try to win them and, consequently, the reader, over."
This was a surprise for me. I didn't know I would end up loving the main character Anne, I adore her imagination and the way she viewed everything. She has flaws but I love her even more because of that. Because this books takes place over a couple of years, you see her grow up and become more of an adult. I am a bit sad that I haven't continued on with this series yet, but I am planning to do that in 2018.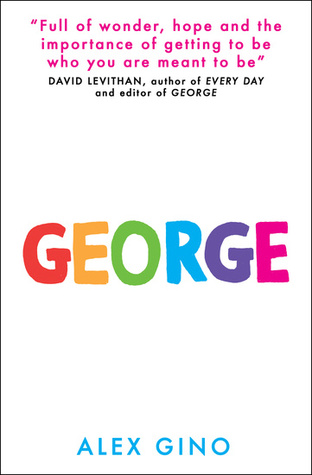 George by Alex Gino 
"When people look at George, they think they see a boy. But she knows she's not a boy. She knows she's a girl. 
George thinks she'll have to keep this a secret forever. Then her (4th grade) teacher announces their class play is going to be "Charlotte's Web." George really, really, REALLY wants to play Charlotte. But the teacher says she can't even try out for the part …because she's a boy.
With the help of her best friend, Kelly, George comes up with a plan. Not just so she can be Charlotte – but so everyone can know who she is, once and for all."
This was the first time I read a book with a transgender main character and I heard that this was a good book, but I didn't know what to expect from it. And I think that was the best way to go into this, because I end up adoring this book. I loved everything about it and the way her best friend was there for her all the way.
So these were 5 of my favorite reading in 2017, of course there are more and those I will be sharing with you soon. But I do think that I won't include these, because than I would be repeating myself.