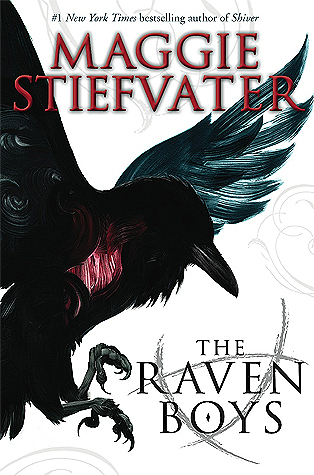 Genre
Fantasy, Young Adult, Paranormal and Romance
Format
Paperback
Release date
September 18th 2012 by Scholastic Press
Summary
"It is freezing in the churchyard, even before the dead arrive.
Every year, Blue Sargent stands next to her clairvoyant mother as the soon-to-be dead walk past. Blue herself never sees them—not until this year, when a boy emerges from the dark and speaks directly to her.
His name is Gansey, and Blue soon discovers that he is a rich student at Aglionby, the local private school. Blue has a policy of staying away from Aglionby boys. Known as Raven Boys, they can only mean trouble.
But Blue is drawn to Gansey, in a way she can't entirely explain. He has it all—family money, good looks, devoted friends—but he's looking for much more than that. He is on a quest that has encompassed three other Raven Boys: Adam, the scholarship student who resents all the privilege around him; Ronan, the fierce soul who ranges from anger to despair; and Noah, the taciturn watcher of the four, who notices many things but says very little.
For as long as she can remember, Blue has been warned that she will cause her true love to die. She never thought this would be a problem. But now, as her life becomes caught up in the strange and sinister world of the Raven Boys, she's not so sure anymore."
Characters
Blue: I don't mind Blue, she is a good female character to follow. But the thing that kind of bothers me is that on her own school she doesn't have any friends, or at least they aren't shown. I do love the strong bond she has with her family.
Gansey: Gansey, he is one I haven't figured out yet. He has two faces and I don't really know if I like his character. I do like the fact that he values friendship a lot and he does a lot for his friends.
Adam: I started of liking Adam, but at the end I don't. Throughout the book he came, in my opinion, more annoying and I wasn't really on board with his motivation to deny the stuff Gansey was offering him, to make his life better.
Ronan: So Ronan is the opposite for me compared to Adam. I started of disliking him, but in the end I was intrigued in him character. There was this one moment they were talking about Ronan being Gansey's dog and then he started pissing outside and all I could think was "Ronan, needs potting training." He is a character I feel you need to warm up to in order to like him.
Noah: Noah is the one character who isn't that much shown in this book, but he is as important as the others. But he is also the one I am a bit indifferent about and I also can't seem to figure out his character.
Writing
I wasn't really a fan of the writing of Maggie Stiefvater. A lot of the descriptions were tell and not show, so I wasn't really getting that invested. It took me a long time to even get invested into the story at all. This book is very character driven and I wasn't really into the characters, I became a bit more in the end. I did enjoy the world building and the mystery of the paranormal aspect of this book. Also with a few chapter I need who would be the love interest and that there would be a love triangle.
Ending
The ending was pretty intense and had me keeping the pages turning, which was different from the rest of the book. Everything did nicely wrap up to finish the book satisfied and there is also a new plot point provided for the next installment.
Overall
Overall it was the ending I enjoyed the most. The first half to 2/3 way through the book I wasn't really interested in continuing on with this series. But when I read the ending I was. In the beginning I wasn't really interested in the characters and as I start off liking Adam to disliking him, I started off disliking Ronan to liking him. There is some tell instead of show issues in this book, which I hope will improve throughout the series.
Overall rating: 3/5 stars