Hello Readers!
So this will be my last top 5 Wednesday post for 2017 and it is going to be about the thing I wish to get in 2018 (winning a lottery to get started would be great). So I am going to limit myself to books I would like to get in 2018, which is different from the books I am anticipating (Does that make sense?). These books I would love to receive for maybe my birthday or as an eARC, and these will be general books I will be looking out for. But I would probably not buy them the moment they would come out (because I won't allow myself otherwise 2018 will be the year I go broke).
So here they are
Ace of Shades by Amanda Foody
"Enne Salta was raised as a proper young lady, and no lady would willingly visit New Reynes, the so-called City of Sin. But when her mother goes missing, Enne must leave her finishing school—and her reputation—behind to follow her mother's trail to the city where no one survives uncorrupted.
Frightened and alone, her only lead is a name: Levi Glaisyer. Unfortunately, Levi is not the gentleman she expected—he's a street lord and a con man. Levi is also only one payment away from cleaning up a rapidly unraveling investment scam, so he doesn't have time to investigate a woman leading a dangerous double life. Enne's offer of compensation, however, could be the solution to all his problems. 
Their search for clues leads them through glamorous casinos, illicit cabarets and into the clutches of a ruthless mafia donna. As Enne unearths an impossible secret about her past, Levi's enemies catch up to them, ensnaring him in a vicious execution game where the players always lose. To save him, Enne will need to surrender herself to the city…
And she'll need to play."
Release date: April 10th. Perfect birthday present since my birthday is the next day 🙂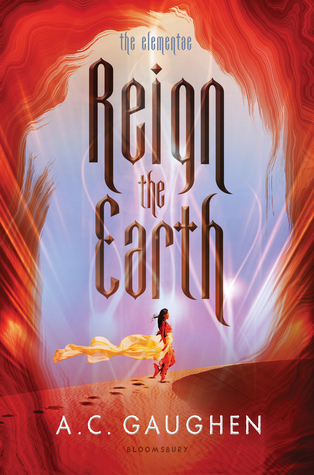 Reign of Earth by A.C. Gaughen
"Shalia is a proud daughter of the desert, but after years of devastating war with the adjoining kingdom, her people are desperate for peace. Willing to trade her freedom to ensure the safety of her family, Shalia becomes Queen of the Bonelands.
But she soon learns that her husband, Calix, is motivated only by his desire to exterminate the Elementae—mystical people who can control earth, wind, air, and fire. Even more unsettling are Shalia's feelings for her husband's brother, which unleash a power over the earth she never knew she possessed—a power that could get her killed. As rumors of a rebellion against Calix spread, Shalia must choose between the last chance for peace and her own future as an Elementae."
Release date: January 30th
Unearthed by Amie Kaufman and Meagan Spooner
"When Earth intercepts a message from a long-extinct alien race, it seems like the solution the planet has been waiting for. The Undying's advanced technology has the potential to undo environmental damage and turn lives around, and Gaia, their former home planet, is a treasure trove waiting to be uncovered.
For Jules Addison and his fellow scholars, the discovery of an alien culture offers unprecedented opportunity for study… as long as scavengers like Amelia Radcliffe don't loot everything first. Mia and Jules' different reasons for smuggling themselves onto Gaia put them immediately at odds, but after escaping a dangerous confrontation with other scavvers, they form a fragile alliance.
In order to penetrate the Undying temple and reach the tech and information hidden within, the two must decode the ancient race's secrets and survive their traps. But the more they learn about the Undying, the more their presence in the temple seems to be part of a grand design that could spell the end of the human race…"
Release date: January 9th
Not The Girls You Are Looking For by Aminah Mae Safi
"Lulu Saad doesn't need your advice, thank you very much. She's got her three best friends and nothing can stop her from conquering the known world. Sure, for half a minute she thought she'd nearly drowned a cute guy at a party, but he was totally faking it. And fine, yes, she caused a scene during Ramadan. It's all under control. Ish.
Except maybe this time she's done a little more damage than she realizes. And if Lulu can't find her way out of this mess soon, she'll have to do more than repair friendships, family alliances, and wet clothing. She'll have to go looking for herself."
Release date: June 19th
A thousand Perfect Notes by C.G. Drews
"An emotionally charged story of music, abuse and, ultimately, hope.
Beck hates his life. He hates his violent mother. He hates his home. Most of all, he hates the piano that his mother forces him to play hour after hour, day after day. He will never play as she did before illness ended her career and left her bitter and broken. But Beck is too scared to stand up to his mother, and tell her his true passion, which is composing his own music – because the least suggestion of rebellion on his part ends in violence.
When Beck meets August, a girl full of life, energy and laughter, love begins to awaken within him and he glimpses a way to escape his painful existence. But dare he reach for it?"
Release date: June 7th
What is on your 2018 wishlists? Bookish and non-bookish?