Hello Readers!
So as I promised yesterday, here are my most anticipated book releases of 2018!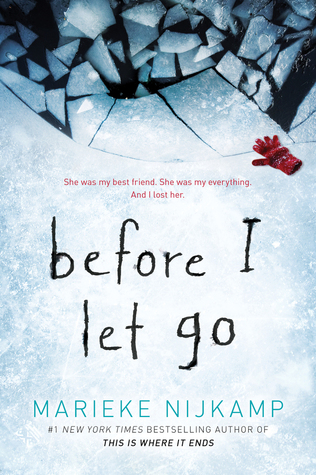 Before I Let Go by Marieke Nijkamp
"Best friends Corey and Kyra were inseparable in their snow-covered town of Lost Creek, Alaska. When Corey moves away, she makes Kyra promise to stay strong during the long, dark winter, and wait for her return.
Just days before Corey is to return home to visit, Kyra dies. Corey is devastated―and confused. The entire Lost community speaks in hushed tones about the town's lost daughter, saying her death was meant to be. And they push Corey away like she's a stranger.
Corey knows something is wrong. With every hour, her suspicion grows. Lost is keeping secrets―chilling secrets. But piecing together the truth about what happened to her best friend may prove as difficult as lighting the sky in an Alaskan winter…"
I will probably be bias when it comes to this author because she is Dutch. I just think it is awesome that she is able to publish books and I really want to support her. But if I will write a review I will try to not be bias or else I will warn you about it first XD.
Release date: January 2nd
Vengeful by V.E. Schwab and City of Ghosts by Victoria Schwab
Villains. Well that is everything I need to hear to know that I will love the first book and that I would want the second book as soon as it would come out. And I have a weird feeling that V.E./Victoria Schwab will be one of my favorite authors. So I would love to get to all her books this year.
Vengeful will release on September 25th and City of Ghosts right now is set to release on December 31st, but that might change.
The Astonishing Color of After by Emily X.R. Pan
"Leigh Chen Sanders is absolutely certain about one thing: When her mother died by suicide, she turned into a bird.
Leigh, who is half Asian and half white, travels to Taiwan to meet her maternal grandparents for the first time. There, she is determined to find her mother, the bird. In her search, she winds up chasing after ghosts, uncovering family secrets, and forging a new relationship with her grandparents. And as she grieves, she must try to reconcile the fact that on the same day she kissed her best friend and longtime secret crush, Axel, her mother was taking her own life.
Alternating between real and magic, past and present, friendship and romance, hope and despair, The Astonishing Color of After is a novel about finding oneself through family history, art, grief, and love."
Just the buzz words make me want to read this book and with that cover, YES! I love the touch of magic in contemporary books and I think this will be one of them, so yes I am excited to get to this.
Release date: March 20th
My Plain Jane by Cynthia Hand, Jodi Meadows and Brodi Ashton 
"You may think you know the story. After a miserable childhood, penniless orphan Jane Eyre embarks on a new life as a governess at Thornfield Hall. There, she meets one dark, brooding Mr. Rochester. Despite their significant age gap (!) and his uneven temper (!!), they fall in love—and, Reader, she marries him. (!!!)
Or does she?
Prepare for an adventure of Gothic proportions, in which all is not as it seems, a certain gentleman is hiding more than skeletons in his closets, and one orphan Jane Eyre, aspiring author Charlotte Brontë, and supernatural investigator Alexander Blackwood are about to be drawn together on the most epic ghost hunt this side of Wuthering Heights."
My Lady Jane was one of my favorite books of last year and ever since I finished it, I have been anticipating this book. I need it so much….
Release date: June 26th
On The Come Up by Angie Thomas
"The highly anticipated second novel from Angie Thomas, #1 New York Times bestselling author of The Hate U Give, returns to the world of Garden Heights in a story about an aspiring teen rapper and what happens when you get everything you thought you wanted."
I will read anything Angie Thomas will come out with. I adored The Hate U Give, it helped me through a difficult period and it gave a good punch in the guts. So I am having high expectations for this book.
Release date: May 1st
What are your most anticipated book releases of 2018?