Hello Readers!
So this recommendation is for people who are trying to get into manga. I love manga, but I am not that vocal about it than about the books I love, but there are always manga everyone will enjoy, I think. So here is one.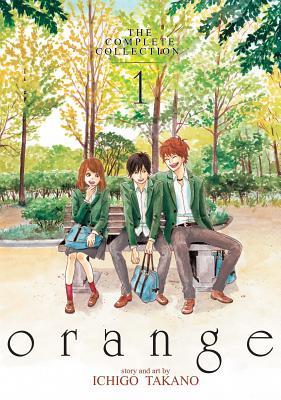 Orange by Ichigo Takano 
"One day, Takamiya Naho receives a letter written to herself from ten years in the future. As Naho reads on, the letter recites the exact events of the day, including the transfer of a new student into her class named Naruse Kakeru.
The Naho from ten years later repeatedly states that she has many regrets, and she wants to fix these by making sure the Naho from the past can make the right decisions—especially regarding Kakeru. What's more shocking is that she discovers that ten years later, Kakeru will no longer be with them. Future Naho asks her to watch over him closely."
Trigger warning: bullying, depression and suicide
The manga is short, so you can basically read it in one day.
Overall it is a slice of life manga with a hint of science fiction.
The characters are very lovable, my personal favorite is Suwa.
It mainly focuses on friendship but there is also a likable romance in here.
It deals with mental illness.
You can also watch the anime if you enjoyed the manga (this is also done amazingly) or if you don't want to read the manga.
You will feel all the feels (if you are like me), you will be happy; sad; scared to reach the end, but still wanting to continue to know how it ends; and at the end you will cry your eyes out.
This is a very well crafted story in my opinion.
If you couldn't tell already, I love this manga, so that is reason enough to read it XD
Do you have any more reasons to read Orange? 
---
If you would like to buy the manga I mentioned, you can use my affiliate link for Book Depository. I will get a commission of 5 % and there are no obligations in store for you. It will support the blog, here is the link: http://www.bookdepository.com/?a_aid=DebbiesLibrary