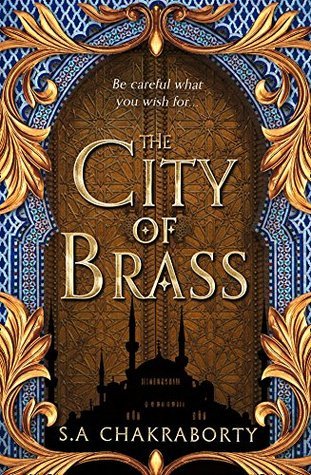 "Nahri has never believed in magic. Certainly, she has power; on the streets of 18th century Cairo, she's a con woman of unsurpassed talent. But she knows better than anyone that the trade she uses to get by—palm readings, zars, healings—are all tricks, sleights of hand, learned skills; a means to the delightful end of swindling Ottoman nobles. 
But when Nahri accidentally summons an equally sly, darkly mysterious djinn warrior to her side during one of her cons, she's forced to accept that the magical world she thought only existed in childhood stories is real. For the warrior tells her a new tale: across hot, windswept sands teeming with creatures of fire, and rivers where the mythical marid sleep; past ruins of once-magnificent human metropolises, and mountains where the circling hawks are not what they seem, lies Daevabad, the legendary city of brass, a city to which Nahri is irrevocably bound. 
In that city, behind gilded brass walls laced with enchantments, behind the six gates of the six djinn tribes, old resentments are simmering. And when Nahri decides to enter this world, she learns that true power is fierce and brutal. That magic cannot shield her from the dangerous web of court politics. That even the cleverest of schemes can have deadly consequences. 
After all, there is a reason they say be careful what you wish for…"
There were two main characters in this story and you were also following their perspective. I am going to talk about these two characters.
Nahri: She is our female protagonist and she is basically thrown into this world. In the human world she was able to survive on her own by using her powers and her mind. I really enjoyed that about her that she didn't need anyone to help save her that she was perfectly capable of doing that herself. Though that does change once she is into the magical world, because of her healing powers she is very valuable and wanted. She does try to keep control over who she is and what she does, but that isn't fully possible in her position. I really enjoy her character and I love that her powers are healing related, that is something I always enjoy in books if there is a medical aspect to it.
Ali: I am still not sure how to feel about him. Ali is the other protagonist and he is born into this world, his father is the king of the Daevadad and Djinn and there is some shady things happening in his city where Ali doesn't agree with. Overall I found Ali to be very naïve, which I can understand since he grew up without any political training or knowing what exactly is happening in his city. Throughout the book he does make some stupid decisions but he does learn from it.
I have seen several reviews of people say that the book was very slow for them to read, the main characters only meet each other half way through the book. I can see why they said that and why it could have been an issue for them, but it wasn't for me. In my opinion I was able to be more into the story because it was slow. This gave the opportunity to learn more about the world and to get to know our characters. And that is something I really loved about this books, the world. I loved all the information we were getting and the way the world functions. This book is also very political, and not really that action packed, there is some action in this book and those were really intense in my opinion, but overall the book is very political.
Now the ending was my least favorite thing about this book, a lot happened in the last 50 pages of the book and it felt a bit rushed in my opinion. This book ends with an open ending, which I don't mind but I can see that it might irritate some people. There is also a few new plot points introduced in these last pages and I am not really on board with them. But I just have to see how they will be developed in the sequel.
I really enjoyed this book, I was fully captivated in the world and the characters, I might not have liked every character but I was really interested to see how the main two would develop throughout the story. I am in love with the world and the magic system of the world and I am pumped to start with the sequel ASAP! Even though I wasn't really on board with the new plot points which were introduced in the last few pages.
Rating: 4/5 stars